Welcome!
We'd like to make your first steps as easy as possible and have put together a small guide to help. Have fun exploring your app!
PC or smartphone
You can use the web app on a variety of different devices, either through a web browser on your PC or through your smartphone. This is what it looks like: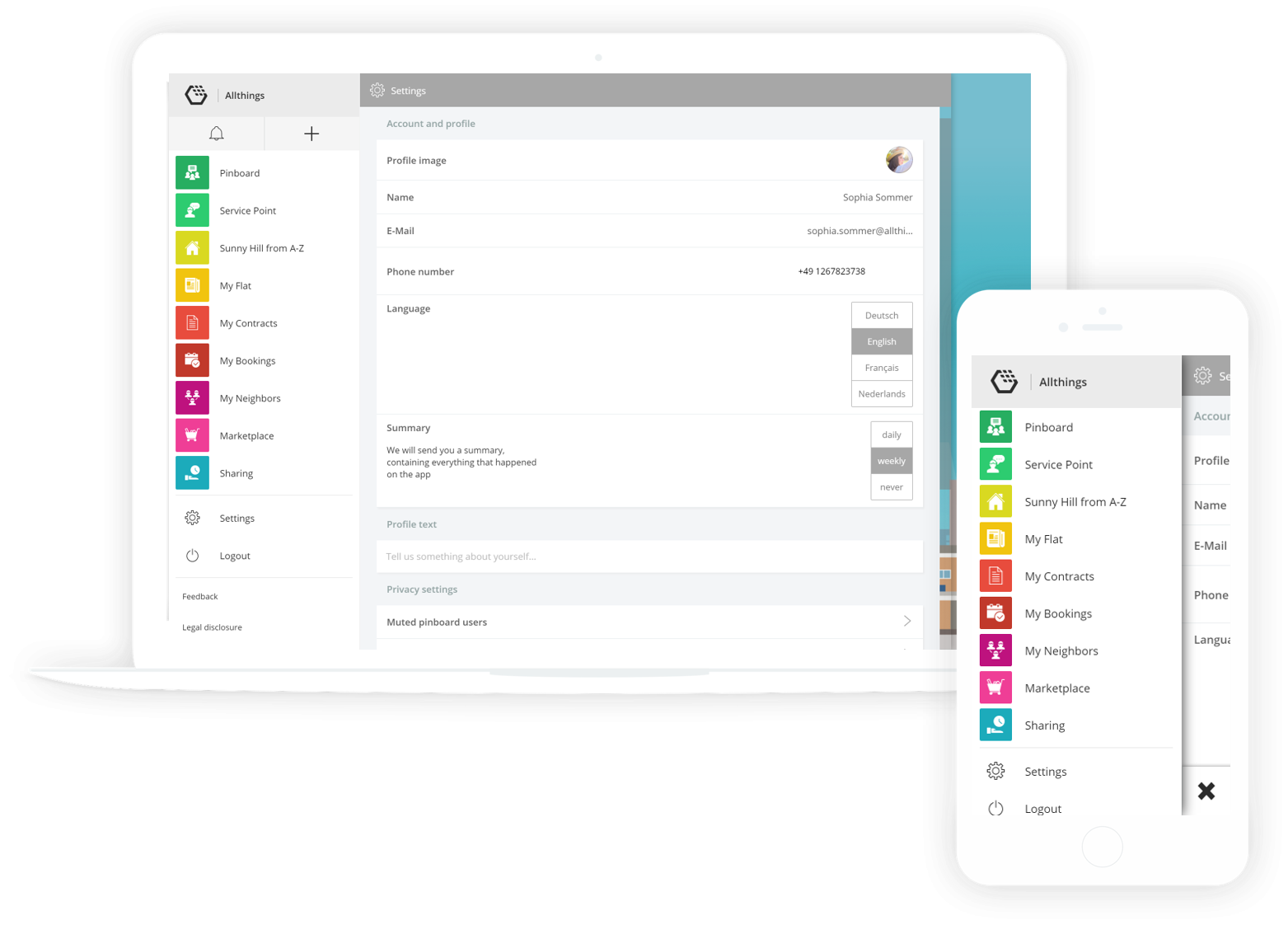 At home or in the office
For a better life in buildings. That's our mission. And that's why we provide our app to both tenants and owners for their own personal homes as well as to people working in office buildings. Anybody, anywhere: We want to improve life in buildings.
Step by step
Join us as we walk you through your first steps in the app:
Settings
Let your community know who the person is behind your name and upload a profile pic of yourself. The settings also give you the option to introduce yourself to the people in your neighborhood and tell a little about yourself. Check here to find out which other profile settings you can change.
My Neighbors
Are you curious about the other people in your community? Then go to My Neighbors to activate your profile. Others are certain to follow suit. Use My Neighbors to contact and get to know one other.
Pinboard
Once you've configured all of the initial settings, then it's time for your first Pinboard post to let everybody know you're there.
Marketplace
Do you have things that are just collecting dust at home or in the office? Use the Marketplace to sell any items you no longer need while also putting a smile on somebody else's face.
Sharing
A drill, projector or picnic table - things you need but don't always have at hand (in sufficient quantity). Do you have anything like that?  The Sharing feature offers you an opportunity to lend items like these to your community. Sharing is caring. Life gets a bit simpler if everybody joins in.
Rules
Take a brief moment and read our Rules to help ensure that interactions within the community remain respectful and friendly.